Sophie Turner is a British actress who gained fame for her portrayal of Sansa Stark in the widespread popular television series "Game of Thrones."
Sophie Turner's Bio, Age
Sophie Turner was born on February 21, 1996, in Northampton, England. She is the daughter of Andrew, who works for a pallet distribution company, and Sally, who teaches at a nursery school.
Educational Background
Sophie Turner attended Warwick Prep School up until the age of 11, and then she enrolled at The King's High School for Girls, an independent school. Since she was 3 years old, Turner has been a part of the Playbox Theatre Company.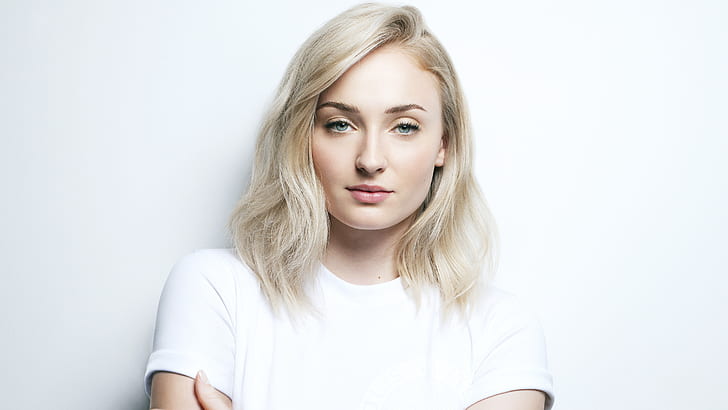 Career
Turner's career began at a young age when she was cast as Sansa Stark in HBO's "Game of Thrones" at the age of 13. The show is based on George R.R. Martin's "A Song of Ice and Fire" novels, which became a cultural phenomenon, and Turner's performance as Sansa earned her widespread recognition. She portrayed Sansa as a creative and clever character who developed throughout the series from an innocent young girl into a capable and intelligent adult. Her work on "Game of Thrones" covered eight seasons, and she received critical praise for her portrayal, earning her several award nominations and a dedicated fan following.
During her time on "Game of Thrones," Turner also ventured into the world of film. In 2013, she made her big-screen debut in the comedy "Another Me." Her major role in a movie came up when she played Jean Grey in "X-Men: Apocalypse" (2016), a sequel to the well-known X-Men film series. She played Jean Grey a second time in "X-Men: Dark Phoenix" (2019), showing the character's transformation into the strong and unpredictable Phoenix.
See also
The Natural Solution to Erectile Dysfunction
Sophie Turner has performed in a number of other film roles in addition to "Game of Thrones" and the X-Men series. She made an appearance in the thriller "Josie" (2018) and provided the voice of Princess Charlotte in the animated series "The Prince" (2021). She is now a popular actress in the business because of her talent and star power.
Sophie Turner is well-known for her advocacy work in addition to her acting career. She has been vocal about mental health issues and has used her platform to raise awareness and reduce the stigma surrounding mental health. She has also been an advocate for gender equality and has spoken out against sexism and inequality in the entertainment industry.
How old was Sansa in season 1 of Game of Thrones in real life?

When Game of Thrones premiered on HBO, Sophie Turner, who played Sansa Stark, was 15 years old.
Who is Sophie Turner dating?
Turner has made headlines for her relationship with musician Joe Jonas. The couple got engaged in 2017 and married in a private ceremony in Las Vegas in 2019, followed by a larger celebration in France. Their relationship has been closely followed by the media, adding to Turner's popularity in pop culture.
What is Sophie Turner's Net Worth?
Sophie Turner's Net Worth is estimated to be $ 12 million.