Sunny Sandler is a famous child actress from America. She is the daughter of famous actors Adam and Jackie Sandler. By following in her parent's footsteps, she became an actress.
Sunny was nominated for the Teen Choice award in 2009 for the Choice Celebrity baby category. But she lost to Marie Warren who is the daughter of Cash Warren and Jessica Alba.
She is also a voice actress as she has lent her voice in the movie "Hotel Transylvania" which was released in 2012.
Why is Sunny Sandler famous?

Sunny Sandler is famous for being a child actress and also she is the daughter of actors Adam Sandler and Jackie Sandler.
Sunny Sandler's Bio, Age, Parents
Sunny Sandler was born on November 2, 2008, in California, America. She is currently 14 years old as of 2022. Her zodiac sign is Scorpion and follows the Christianity religion. She belongs to a Jewish family. She was born and raised in her home town California.
See also
Why Leonardo DiCaprio may never get married & have Kids Either
Sunny's father's name is Adam Sandler who is a famous Hollywood icon and comedian. Her mother's name is Jackie Sandler. The duo is still together and it has been over 2 decades.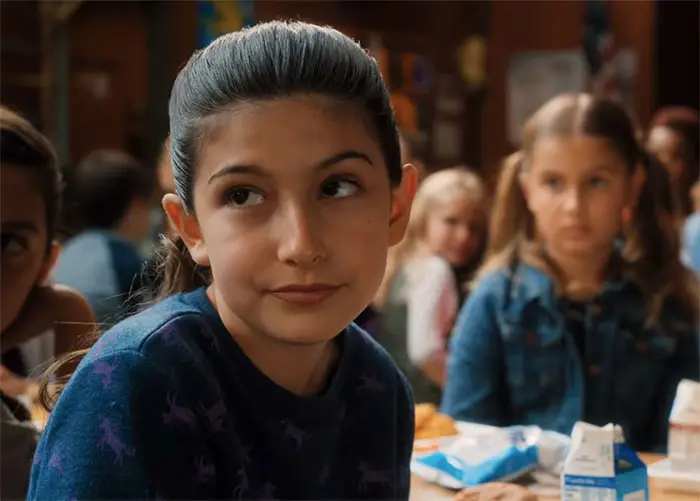 Sunny has one elder sister whose name is Sadie Sandler. Sadie was born on May 6, 2006. She is also working as a Hollywood child actress. Sadie has currently joined the Tisch School of the Arts located in New York City.
Sunny Sandler's Career
Sunny Sandler made her debut in the acting with the comedy movie "Grown Ups" directed by Dennis Dugan named.
In the movie, she played the role of Tardio's daughter. The film also features her father Adam Sandler and other stars like Kevin James, David Spade, Rob Schneider and several others.
After the success of the movie "Grown Ups", Sunny got the chance to work in the romantic movie "Just Go With It" in 2011. In the same year, she played in the movie "Jack and Jill".
Sunny played a minor role in the movie "That's My Boy" in 2012. Later, she got an offer to lend her voice to the character in the animation movie"Hotel Transylvania". In 2013, she again worked on the sequel of "Grown Ups" named "Grown Ups 2".
In 2014, Sunny played the role of the Wall Street Stepdaughter in the romantic movie "Blended". The movie was commercially successful.
She again shared a screen with her father Adam in the movie "Pixels". The movie was directed by Chris Columbus and is a fantasy or Science fiction movie.
The movie "Pixels" was inspired by video games like Pac-Man, Arkanoid, Galaga, and Donkey Kong. Unfortunately, The film got some negative reviews but it earned over $250 million at the box office.
In 2015, Sunny lent her amazing voice to the character Baby Dennis in the movie "Hotel Transylvania". The character Baby Dennis is the sin of Johnny and Mavis. The role was portrayed by 5 year old kid Asher Blinkoff.
In the year 2017, She appeared in "Sandy Wexler" as Lola and in 2018, she appeared in "The Week of" as Eva. Again, She was featured in "Hotel Transylvania 3: Summer Vacation" in 2018.
How old is Sunny Sandler?

Sunny Sandler is 14 years old as of 2022.
Sunny Sandler's Net Worth
Sunny Sandler earned a name and fame at a very small age. Her father and mother supported her a lot to make her successful. As of 2022, Sunny has an estimated net worth ranging from $100,000 to $1 million.
Whereas, Sunny's father Adam is one of the richest comedians and actors in America who has signed a deal with Netflix for over $350 million. He has an estimated net worth of $420 million as of 2022 and he is able to provide his children a better life from their childhood.
Social Media Handles: Instagram, Twitter
Sunny Sandler is still under 18, so she is not active on any kind of social media site. But, her father Adam is very much famous and active on Instagram.
Whereas, his official Instagram account has over 13.5 million followers. But, he is not available currently on other social sites like Facebook and Twitter.
Who is Sunny Sandler to Adam Sandler?

Sunny Sandler is the second daughter of actor, and comedian, Adam Sandler.
Is Sunny Sandler Married?
As of 2022, Sunny Sandler is still 14 years old and enjoying her childhood life and working as a child actress. Currently, she is sharing a love bond with her family.
In the future, she might be getting into a relationship. So, stick with us to get further information about Sunny Sandler.
Sunny Sandler's Body Measurements: Height and Weight
An amazing child actress Sunny Sandler is 4 feet 10 inches or 147 cm tall. Her weight is 35 kg or 77 lbs. Her hair color is brown and her eye color is black. There is no further information available about her body measurements.