Iman Shumpert is a professional basketball player from the United States who plays the position of shooting guard. He is now a free agent. The New York Knicks picked him with the 17th overall selection in the 2011 NBA draft.
In 2016, he won an NBA championship with the Cleveland Cavaliers. He signed a contract to return to Brooklyn on January 30, 2021, however he only played one game before being released. On February 26, 2021, he signed a 10-day deal with the Nets. He's also had stints with the Sacramento Kings (2018-2019) and the Houston Rockets. In 2021, he and Daniella Karagach won Season 30 of Dancing with the Stars, marking him the first NBA player to reach the finals and win. He released the single "Knicks Anthem" and the mixtape Th3 #Post90s in 2012. He released the song "Dear Kendrick" in 2013 in reaction to Kendrick Lamar's part in Big Sean's song "Control."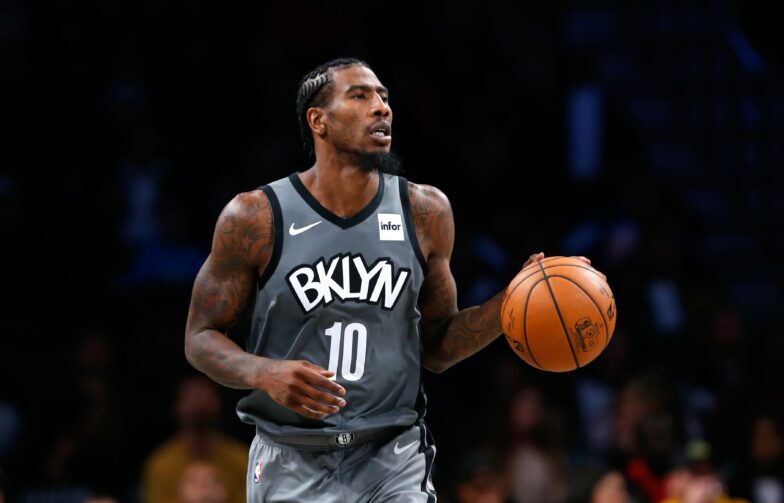 Iman Shumpert's Bio
Iman Shumpert was born on June 26, 1990, under the name Iman Asante Shumpert. He is from Oak Park, Illinois, in the United States of America. His nationality is American, and his ethnicity is American-African. As of 2021, he is 31 years old. His zodiac sign is Cancer, and he practices Christianity. He was born to Odis Shumpert and L'Tanya Shumpert, his father and mother, respectively. His father works as an insurance broker, while his mother is an art and design professor at Columbia College in Chicago, Illinois. Kasani Shumpert, Odis Jr. Shumpert, and Ahrii Shumpert are his three siblings with whom he grew up and spent his youth.
Iman attended Gwendolyn Brooks Middle School in Oak Park, Illinois, according to his educational background. He went on to Oak Park and River Forest High School, which is a public high school in Oak Park, Illinois. He was a first-team all-state player and one of the top 30 seniors in the country there. As a junior and senior, he was voted conference MVP after helping Oak Park and River Forest win three conference crowns. Scout.com ranked him No. 15 among senior players in the country, while Rivals.com ranked him No. 26. He was also chosen a third-team Parade All-America and was picked to participate in the 2008 McDonald's All-American Game. He enrolled as a freshman at the Georgia School of Technology, a public research university and institute of technology in Atlanta, Georgia, after graduating in 2008. He finished the season as the team's fourth-leading scorer, averaging 10.5 points per game while making 34.5 percent of his three-point tries.
On December 3rd, he had arthroscopic surgery to repair a torn meniscus in his right knee, missing six games but finishing the season as the team's third-leading scorer with 10.0 points per game. He was just the sixth player in ACC history to lead his club in scoring (17.3 ppg), rebounding, and assists during the 2010-2011 season. He also owns the Georgia Tech thefts per game record. On March 28, 2011, he declared for the NBA draft.
See also
The Natural Solution to Erectile Dysfunction
Timeline of Iman Shumpert's Career
The New York Knicks selected Iman Shumpert with the 17th overall choice in the 2011 NBA draft. "He's probably as excellent an on-ball defender as there is in the league right now," his colleague Jared Jeffries stated after his few games with the squad. He was chosen to compete in the "NBA All-Star Weekend Slam Dunk Contest" in 2012, however he was unable to do so due to a knee injury. After making a return on April 28, 2012, he sustained a knee injury in a first-round playoff game against the Miami Heat. Shumpert tore his ACL and meniscus in his left knee, and he will miss the remainder of the season, according to an MRI. After that, he came in fifth place in the 2012 NBA Rookie of the Year voting, becoming the first rookie to garner votes for Defensive Player of the Year. He made his 2013 season debut on January 17th at The O2 Arena in London against the Detroit Pistons, with 8 points, 3 rebounds, one assist, one steal, and one block.
Following that, in July 2013, he appeared in one summer league game with the Knicks, earning two points, six rebounds, and four assists in a 72-77 defeat to the New Orleans Pelicans.
On December 12, 2014, he dislocated his left shoulder against the Boston Celtics. On January 5, 2015, he was moved from the Knicks to the Cleveland Cavaliers in a three-team deal. He debuted with the Cavaliers on January 23, 2005, against the Charlotte Hornets, recording 8 points, 2 rebounds, and 2 assists in a 129-90 victory. Then, on July 9, 2015, he re-signed with the Cavaliers for a four-year, $40 million deal, and made his season debut against the Orlando Magic on December 11th, scoring 14 points off the bench in a 111-76 victory. On March 5, 2016, he scored 12 points and grabbed a career-high 16 rebounds off the bench in a 120-103 victory against the Boston Celtics. On March 14, 2017, he set a season best with 18 points in a 128-96 victory against the Detroit Pistons. He was declared out for six to eight weeks after surgery on his left knee on December 1st, but returned on January 23rd against the San Antonio Spurs. He was acquired by the Sacramento Kings on February 8, 2018, and made his club debut against the Utah Jazz on October 17, 2018, when he scored five points and grabbed three rebounds in 18 minutes off the bench in a loss. He scored 16 of his 26 points in the first quarter of the Kings' 131-120 triumph against the Oklahoma City Thunder after the setback. In addition, in the Kings' 117-113 victory against the Thunder on November 19th, he scored 21 of his 23 points in the first half.
On December 27, 2018, he scored 18 points and tied his career best with six 3-pointers in a 117-116 victory against the Los Angeles Lakers.
On February 7, 2019, he was acquired by the Houston Rockets in a three-team transaction. On November 13th, 2019, he signed with the Brooklyn Nets. Iman Shumpert was released by the Nets on December 12th, after Chandler's ban ended. He signed a contract to return to Brooklyn on January 30, 2021, but was released after just one game. On February 26th, he signed a 10-day deal with the Nets.
Iman Shumpert's Achievements and Awards
Champion of the NBA (2016), All-Rookie First Team in the NBA (2012), All-ACC second team (2011), All-Defensive Team of the Atlantic Coast Conference (2011), All-Freshman Team of the Atlantic Coast Conference (2009), McDonald's All-American (McDonald's) (2008)
Parade All-American third team (2008)
Who is Iman Shumpert's wife and how many children does he have?
Iman Shumpert is a husband and father. On October 1, 2016, he married Teyana Taylor, his long-term lover. Teyana, his wife, is a professional singer, composer, actor, dancer, choreographer, and model. At a party, Taylor met her future husband, Iman, but she wasn't thrilled with Shumpert. "I didn't like him at first since he had just been selected when I met him. He was a young man with a lot on his plate. I was at a gathering. He was inebriated and had taken off his shirt. Baby, there was simply too much happening on "Taylor said. "We became friends eventually, and I photographed him for one of my style firms." Their friendship blossomed into a love relationship, and they were engaged in 2015 before secretly marrying the following year in their toilet.
"We simply wanted to be married in the toilet where our kid [Junie] was born for good luck before we conducted the main wedding," Teyana said. Iman Tayla Shumpert Jr., the couple's daughter, was born in December 2015. Shumpert "delivered his daughter with his own hands" in 2015 when Taylor went into labor weeks earlier than planned, according to Yahoo. "Junie chose to take her first breath into this world on December 16th at 6:42 am in our bathroom," Taylor said on Instagram. "Everyone was pleasantly surprised when she appeared! I didn't realize I was pregnant until I touched her head." Rue Rose Shumpert, their second child, was born on September 6, 2020. Rue was also born in the toilet of the couple.
Shumpert stated in a video birth announcement: "Now, whenever we purchase a house, we look for a bathroom with a lot of energy… But you wouldn't be able to tell me we'd birth both of our girls in a bathroom without the help of a hospital in a million years! Our newest addition swam into the world and emerged gazing about and eager to explore! ".. Currently, the happily married pair is living their lives pleasantly without any interruptions. He is not homosexual and has a heterosexual sexual orientation. Iman had previous relationships with Stephanie Woods, Rosee Divine, and Elle Verner.
How much money did Iman Shumpert earn in the NBA?
Iman Shumpert is a professional basketball player who has amassed a sizable fortune as a result of his efforts. Iman's net worth is expected to be at $30 million in 2021. His major source of riches comes from his basketball career, and he now lives a luxury lifestyle. His total NBA earnings are expected to be in the neighborhood of $49 million ($52 million with inflation adjustment). In the 2020-2021 season, he will earn an annual salary of $803,044 from his current club, the Brooklyn Nets. In the 2018-2019 season, he was paid $11,011,234 by the Houston Rockets. He re-signed with the Cavaliers on July 9, 2015, for a four-year, $40 million deal. He has Nike and Adidas sponsorship agreements. He also purchased a $3 million house in 2016.
Iman Shumpert's height
Iman Shumpert is a tall basketball player who stands at 6 feet 5 inches (195.5 cm) and has an athletic body type. His balanced weight is 96 kg. His hair is black, and his eyes are black as well. Tattoos cover both of his hands and his whole upper chest. He has a big beard that he sports. The rest of his physique measurements are yet to be revealed. Shumpert's high-top fade hairstyle gained attention throughout the 2012–13 NBA season.
What If I Told You…
Shumpert has experimented with rap music outside of basketball. With professional partner Daniella Karagach, he won the 30th season of Dancing with the Stars. Iman Asante Shumpert is his given name. With the Cleveland Cavaliers, he won an NBA championship in 2016. On December 3, 2009, he had arthroscopic surgery to repair a torn meniscus in his right knee during the 2009-2010 season.